Nordic Chamber & AmCham present the Business Climate Survey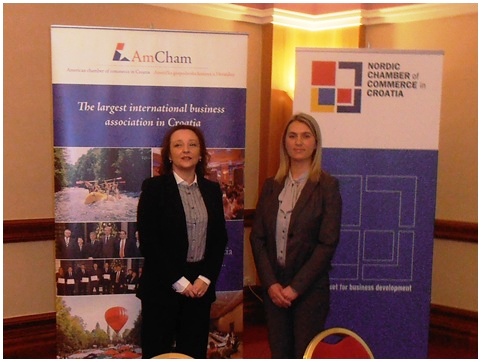 Submitted by nordicchamber on Thu, 12/15/2011 - 01:14
Nordic Chamber of Commerce together with American Chamber of Commerce presented the results of the Business climate survey at the press conference held on Tuesday, 13 December, at the Westin Hotel in Zagreb.
The survey was conducted by Ipsos Puls among the members of the Nordic Chamber of Commerce and American Chamber of Commerce in Croatia in the period from 19 April to 14 September 2011. The survey results were presented by the Executive director of the Nordic Chamber of Commerce, Ms. Gordana Fuštar, and the Executive director of the American Chamber of Commerce, Mrs. Andrea Doko Jelušić and these results referred to the conditions of the business operations in Croatia, comparison of Croatian business to the other countries of Central and Eastern Europe, the main advantages and disadvantages in relation to operations with these countries and the main improvements and deteriorations in business conditions in Croatia. The purpose of this survey was to gain the insight into the business conditions of the Chamber's member companies in Croatia, and to identify potential difficulties and obstacles, in order to take concrete measures to successfully remove them in the forthcoming period.
More information about the entire survey ''Business Climate Survey among members of American and Nordic Chamber of Commerce in Croatia'' as well as presentation from the press conference and press release are available below.
"Business Climate Survey" Download
''Istraživanje poslovne klime'' Download
Prezentacija Download
Objava za medije Download
PR Partner: