About Croatia
Submitted by nordicch on Thu, 02/22/2007 - 05:27
Croatia

Croatia is an emerging Central European market. The country gained its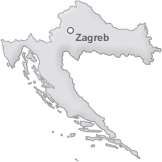 independency in 1991. Since then, it has been modifying its laws and practices to become a market-oriented economy. As a part of preparation for membership in the European Union, Croatia has been harmonizing its legislation with EU regulations since October 2005, and joined the EU on 1 July 2013. Croatia is the newest, 28th member state of the European Union.
Croatia is facing a lot of economic issues, such as structural adjustment, privatisation, reform of the financial sector and stimulation of domestic industry and exports. It has developed a successful stabilization program, which has, among other things, resulted in a significant growth of real GDP.
The economic structure is moving quickly toward a dynamic, market-based system. The Croatian market is open to foreign investors. In terms of their rights and obligations, foreign investors are treated on an equal basis with domestic companies. The Croatian government supports foreign investments.
Trade between Croatia and Nordic countries has intensified in the last several years. Increased confidence in Croatia is also visible in the increase of direct investments from the Nordic countries. Some of the biggest Nordic investors include Carlsberg, ABB, Ericsson, Rockwool and others.

Facts:

GDP per capita (USD, 2015 est.): 90.33 bilion
Inflation (2015 est.): -1.1%

Unemployment rate (2015 est.) : 19.3%

Exchange rate (average, 2016): 1 € = 7,406 HRK

Area: total: 56,542 sq km, water: 128 sq km, land: 56,414 sq km

Coastline: 5,835 km (mainland 1,777 km, islands 4,058 km)

Land boundaries: total: 2,197 km

Border countries: Bosnia and Herzegovina 932 km, Hungary 329 km, Serbia 241 km, Montenegro 25 km, Slovenia 670 km

Climate: Mediterranean and continental; continental climate predominant with hot summers and cold winters; mild winters, dry summers along coast

Terrain: geographically diverse; flat plains along Hungarian border, low mountains and highlands near Adriatic coastline and islands

Elevation extremes: lowest point: Adriatic Sea 0 m, highest point: Dinara 1,830 m

Natural resources: oil, some coal, bauxite, low-grade iron ore, calcium, natural asphalt, silica, mica, clays, salt, hydropower

Population: 4,284.889 (2011 census)

Population growth rate: -0.4% (2011 est.)

Life expectancy at birth: male: 72.3 years, female: 79.2 years (2007 est.)
Nationality: noun: Croat(s), Croatian(s) adjective: Croatian

Ethnic groups: Croat 89.6%, Serb 4.5%, Bosniak 0.5%, Hungarian 0.4%, Slovene 0.3%, Czech 0.2%, Roma 0.2%, Albanian 0.1%, Montenegrin 0.1%, others 4.1% (2001)

Religions: Roman Catholic 87.8%, Orthodox 4.4%, Muslim 1.3%, Protestant 0.3%, others and unknown 6.2% (2001)

Languages: Croatian 96%, other 4% (including Italian, Hungarian, Czech, Slovak, and German)

Literacy: definition: age 15 and over can read and write, total population: 98.5%, male: 99.4%, female: 97.8% (2003 est.)

Country name: conventional long form: Republic of Croatia; conventional short form: Croatia, local short form: Hrvatska; local long form: Republika Hrvatska

Capital: Zagreb

Independence: 25 June 1991 (from Yugoslavia)

National holiday: Statehood Day, 25 June (1991)

Government type: presidential/parliamentary democracy, a member of the UN organization since 1992. The current Government was elected in October 2016.
President: Kolinda Grabar - Kitarović
Prime Minister: Andrej Plenković
Government: Official Government web site
Ministry of Foreign and European Affairs
Ministry of Regional Development and EU Funds
Ministry of Environmental and Nature Protection
Ministry of Construction and Physical Planning
Ministry of Social Policy and Youth
Ministry of Science, Education and Sports
Ministry of Maritime Affairs, Transport and Infrastructure
Ministry of Public Administration
Ministry of Enterpreneurship and Crafts
Ministry of Labour and Pension System
President of the Parliament: Božo Petrov
Parliament: Official Parliament web site
Economic indicators (from the Economist Intelligence Unit)
Real GDP growth (%): -1.1 (2013), -0.4 (2014), 0.8 (2015)
Consumer price inflation (%): 0.2 (2014), -0.3 (2015)
Budget balance (% GDP): -5 (2015)
Current account balance (GDP%): 1.2 (2013)