Company visit to Ericsson Nikola Tesla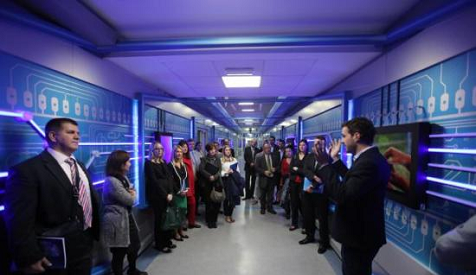 Submitted by nordicchamber on Mon, 10/12/2015 - 11:57
Nordic Chamber of Commerce, in cooperation with its member company, Ericsson Nikola Tesla d.d., organized on 6 October 2015 working visit to the company.
Upon the initiative of the Nordic Chamber of Commerce in Croatia, and in cooperation with Ericsson Nikola Tesla, around 38 participants, representatives of member companies and partners of the Nordic Chamber Chamber of Commerce, as well as representatives of several Embassies, had the opportunity to visit but also hear about success story of Ericsson Nikola Tesla which combines in an excellent way the best of Croatia and Sweden through know-how, experience, skilled employees, R&D, innovation, technology and continued focus toward new business goals.
Upon arrival to Ericsson Nikola Tesla, visitors were welcomed by Mr. Milan Živković, Strategy and business development director and his team, and given a short presentation of the company, as well as a presentation about "Innovative products and solutions for the networked society". Second part of the program included guided tour o Technology road.
Nordic Chamber of Commerce initiated this visit with the objective to present successful business model of Ericsson Nikola Tesla in Croatia, but also to give its members and partners an opportunity to establish new relations and business opportunities, as well to exchange business ideas and experience.
Photos from the company visit are available in the Photo Gallery.