Business breakfast and workshop on managing stress and building resilience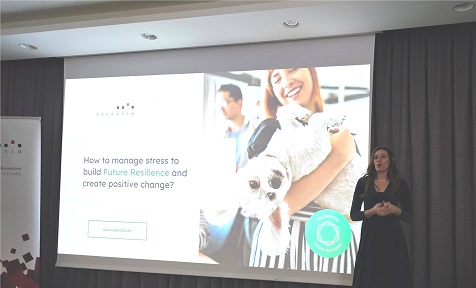 Submitted by nordicchamber on Sun, 05/21/2023 - 07:36
Nordic Chamber of Commerce in Croatia organized a business breakfast and a workshop on "How to manage stress in order to build future resilience and create positive change?" with SELECTIO, a member company of the Chamber, on Tuesday, 16 May 2023 at Hotel DoubleTree by Hilton Zagreb. The event was joined by Embassy of Belgium, Wallonia Trade Office for Croatia, and SLO CRO Poslovni klub, and their company representatives.
The lecture on the topic "How to manage stress in order to build future resilience and create positive change?" gathered CEOs, managers, specialists in HR departments and marketing area, all members from Nordic-Belgium-Slovenian business community, who showed huge interest for the topic and willingness to examine it closer.
During the lecture the audience had opportunity to learn how we can change our own perception and see the positive aspects of stress that can help us to perform better, give us positive kick and enthusiasm to accomplish our tasks and goals, as well provide opportunities for growth. A guest speaker, Mrs Ana Petelinšek, Recruitment and Selection Project Manager/HR Consultant at SELECTIO, shared her expertise and explained in an excellent way how we can manage stress in most optimal way, prevent it and reduce it as much as possible, but also turn it into an opportunity for growth and development by creating positive change in both private and professional life.
The workshop, that was combined with interactive discussion, followed by concrete examples, cases from a daily practice, including different techniques, that was used in order to build future resilience and create better understanding of stress, examined the following aspects:
How to be aware of stressors in our environment?
What is the fight-flight-freeze effect and what can we do about it?
What are stress impacts on our health and which techniques can help us in reducing symptoms?
How to see change as an opportunity for growth and development?
The event was also an excellent opportunity to establish new valuable business contacts among representatives of all three business organisations and their members.
To view photos from the business breakfast and workshop, please visit Photo Gallery or click here.