Business breakfast on "How can employer branding accelerate your business?"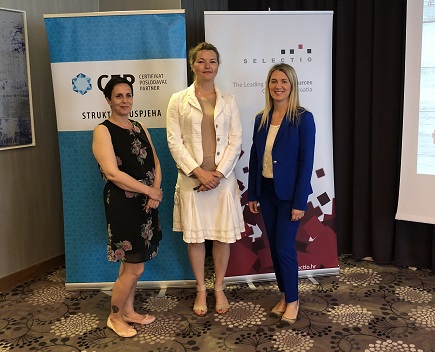 Submitted by nordicchamber on Fri, 06/14/2019 - 14:00
Nordic Chamber of Commerce in cooperation with Association of Italian Entrepreneurs in Croatia organized a business breakfast and a lecture with SELECTIO, a member company of the Nordic Chamber of Commerce, on Tuesday, 11 June 2019, at Hotel DoubleTree by Hilton Zagreb.
The lecture on the topic "Employer branding – how can employer branding accelerate your business?" gathered CEOs, managers, specialists in HR departments and marketing area, all members from Nordic-Italian business community who showed huge interest for the topic.
During the presentation the audience had opportunity to get detailed insight about most important aspects of employer branding as a powerful tool that can help employers to use their brand in order to attract the best in the labour market, but also to keep those employees they already have in the organization. Furthermore, a guest speaker, Mrs Maja Marković Mileusnić, explained several additional positive effects that employer branding have including direct influence on the acceleration of business results and boost of entire company.
The lecture, that was combined with interactive discussion, followed by concrete examples and cases from a daily practice, examined the following questions:
What is Employer Branding?
Why should we use it or what are its benefits?
Who is the Employer Branding Responsibility?
How, through the steps, build and implement Employer Branding activities?
What does Employer Branding look like at the company level (examples from the companies)?
Apart from very educative and fruitful lecture, the event was also an excellent opportunity for networking and establishment of new business contacts among representatives of Nordic-Italian business community.
To view photos from the business breakfast, please visit Photo Gallery or click here.