Bilateral Chambers with Ministry of Science and Education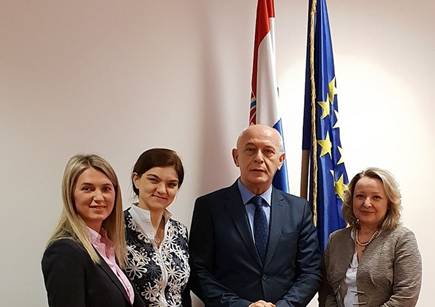 Submitted by nordicchamber on Thu, 02/14/2019 - 16:59
Representatives of American Chamber of Commerce, Austrian Trade Commission and Nordic Chamber of Commerce visited the Ministry of Science and Education and met with Minister Divjak and her team on February 5.
The Bilateral Chambers' initiative in 2018 position paper recognized the importance of linking education system with market needs.
Dual education program will soon enter experimental phase. For the start it will be focused on four occupations and even though it will reference Austrian, German and Swiss model where it has been successfully practiced, it will contain specifics of the local environment. Chambers' delegation invited Mr. Vlado Prskalo, Assistant Minister, to present the new model to the business community represented at the chambers. Representatives of the chambers informed the Ministry that lack of practical work and knowledge is noticeable at the level of university graduates as well and closer cooperation between education system and business is needed. Mr. Prskalo invited chambers to participate in working groups organized within the Ministry of this topic.