Business Networking Breakfast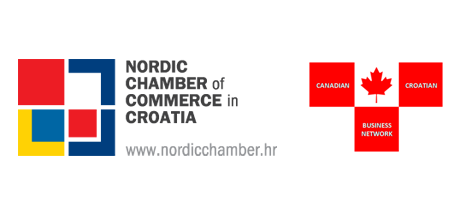 Submitted by nordicchamber on Fri, 02/09/2018 - 12:01
Nordic Chamber of Commerce in cooperation with Canadian Croatian Business Network is organizing a joint Business Networking Breakfast prepared specially for their respective member companies on Thursday, 22 February 2018 at the Sheraton Hotel in Zagreb.
As a part of our continued activities in cooperation with other bilateral Chambers in Croatia, the Nordic Chamber of Commerce has partnered with the Canadian Croatian Business Network (CCBN). With the entry of the CETA (Comprehensive Economic Trade Agreement) between Canada and the EU, opportunities are open not only to Croatian companies, but to all European countries for expanding trade with Canada, and vice versa.
In order to create added value to our member companies and their business opportunities we have prepared a joint business event with Canadian Croatian Business Network, at which representatives from both business organizations will be able to meet with their respective colleagues and discuss new potential business opportunities of mutual interest. The format of the event is a "speed networking" style. The first hour includes structured and short meetings with business representatives from the opposite side, in which each side introduces themselves and their company. In the second hour, a buffet breakfast is served with open mingling time, allowing for more in depth discussions with all participating companies.
Participation is free of charge for Nordic Chamber of Commerce members and is open exclusively to members of Nordic Chamber of Commerce and Canadian Croatian Business Network.
For more information about the registration for this business event, please contact us at office@nordicchamber.hr or 01/5393 751.