Conference "Energy and water efficiency"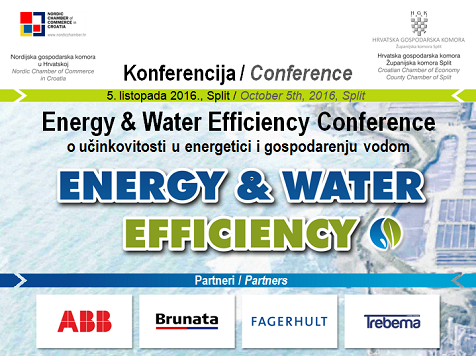 Submitted by nordicchamber on Fri, 10/14/2016 - 09:16
Nordic Chamber of Commerce in cooperation with Croatian Chamber of Economy, County Chamber of Split, organized one day Conference "Energy and water efficiency o učinkovitosti u energetici i gospodarenju vodom" on Wednesday 5 October 2016 inSplit.
The Conference gathered about 80 participants from different counties and cities from Dalmatia region and was addressed by hosts, Mrs. Katija Buličić, President of County Chamber of Split, and Ms. Gordana Fuštar, Executive director of Nordic Chamber of Commerce in Croatia. The main goal with the Conference was to inform Croatian stakeholders (local and regional authorities, representatives from different public and private companies, but also health facilities, hotels and industry sector) how one can obtain efficient sustainable development and how one can optimize and rationalize consumption of resources (such as energy and water) by using certain technology and at the same time contribute to environmental protection, which finally result in several different benefits, such as significant financial savings for the entire society on both micro and macro level. For this purpose, four eminent Nordic companies (ABB, Brunata, Fagerhult and Trebema) were invited to present their know-how, experience, different technologies and solutions including concrete examples from daily practice that are used in the field of energy and water efficiency and applicable for the purpose of Dalmatia region.
Apart from transferring Nordic knowledge, experience and good praxis based on specific technology and solutions, the Conference gave also opportunity for establishment of direct business contacts between Croatian and Nordic institutions and companies through B2B matchmaking meetings. Furthermore, participants had also possibility to visit Nordic companies' stands and take part of their exhibition. Representatives from Croatian institutions (Ministry of Economy, Croatian Waters and Croatian Bank for Reconstruction and Development) presented different projects planned for the forthcoming period including available financing models with reference to energy and water efficiency sector.
By organizing the Conference in Split city and Split-Dalmatia County organizers wish was to contribute to more successful decentralization of Croatian regions and more active integration of Dalmatian counties and cities into sustainable development process.
Photos from the Conference are available in the Photo Gallery.