Business breakfast on Strategic communication solves your problems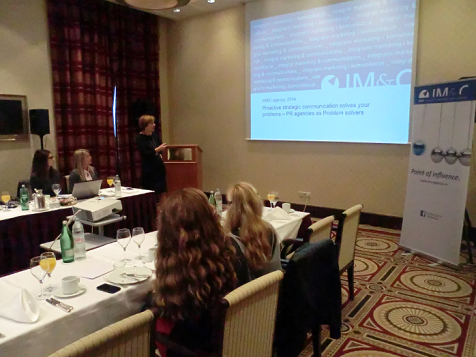 Submitted by nordicchamber on Thu, 10/02/2014 - 10:13
Business breakfast on Strategic communication solves your problems - PR agencies as PRoblem solvers
Nordic Chamber of Commerce organized on Thursday 16 October 2014, at Esplanade Zagreb Luxury Hotel, a business breakfast with IM&C agency, member of the Nordic Chamber of Commerce.
The topic was: Strategic communication solves your problems – PR agencies as PRoblem solvers.
During the lecture, representatives of Nordic Chamber business community obtained detailed information about different areas of strategic communication such as social environment, economic environment, political environment, cultural environment and media environment in a local country. The presentation demonstrated how Public Relations present very important scope of tools for avoiding crisis situation, for being updated with trends in company's environment and for adjusting company's communication strategy to new circumstances. By using concrete examples and cases from daily practice it was shown how well developed and integrated Public Relations can solve company's problems and become real allies on the road to the business success.
The lecture raised huge interest among audience and was followed by Q&A related to the subject.
To view photos from the business breakfast, please visit Photo Gallery or click here.