Great time at the Nordic Picnic
Submitted by nordicch on Sat, 03/03/2007 - 04:34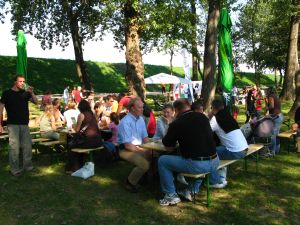 We would like to thank all the guests and sponsors that made this Saturday, 15th September at Bundek a fun day with our Nordic Charity Picnic. The Picnic lasted from 12:00 until 17:00, and some 400 persons attended, including a lot of children. We had a lot of fun with World Class training, Nordic Walking, Segway and of course the raffle.
Participants particularly enjoyed our band, Whatever, who entertained us with their fantastic performance. Kids were delighted to have Haby's jumping castle, as well as great performances by magicians, clowns and other entertainers at the kids' workshop. The highlight of the day was the traditional Nordic Charity Raffle, with wonderful gifts, such as weekend use of cars (kindly sponsored by Sixt Rent-a-Car) and Volvo Car (courtesy of Volvo Cars Croatia), night and breakfast at the Regent Esplanade Hotel, four day trip to Tuscany, courtesy of Adriatica.net, Oriflame's beauty presents, membership at the state-of-the-art World Class Health Club and many more were given.
Sponsorship of Zagreb Holding, Det Norske Veritas, ABB Croatia, Lift Modus and Rockwool is appreciated.
Food and beverages were sponsored by Pivac and PPK Karlovac, Carlsberg Croatia, Salvia, Nestle, Bionatura and Cedevita.
Tent was set up by Kudumija Trade, printing materials by Marko M.
Raffle prizes were sponsored by Volvo, Sixt, Adriatica.net, Tele2, Regent Esplanade, World Class, Brunata, Segway/Haby, Oriflame, Brunata, MacGregor, CNWA/Intact and Egmont.
Proceeds will be spent on buying St Nicholas gifts for the kids at Nazorova . you will hear more about this soon!