The Regent Esplanade Zagreb nominated for the World Luxury Hotel Award!
Submitted by NikolinaVolf on Thu, 07/29/2010 - 08:39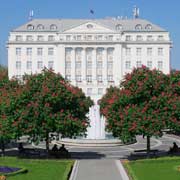 The Regent Esplanade Zagreb hotel, member of the Nordic Chamber, has been nominated for the prestigious World Luxury Hotel Award 2010! The World Luxury Hotel Award was established as a celebration of ultimate achievement of luxury hotels worldwide. The Award recognizes the hotels that have differentiated themselves from "good hotels" to "exceptional hotels". The World Luxury Hotel Awards accounts for all categories in the Luxury Hotel industry. Award winners set the benchmark for luxury hotels in achieving recognition for their world class facilities and service excellence. More about the Award…..